Phanteks Enthoo Primo Ultimate Black Red Edition
PH-ES813P_SRD
This product has been discontinued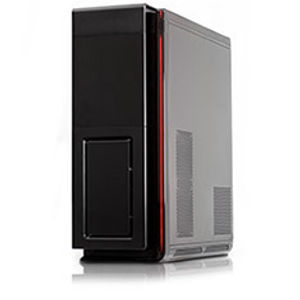 Phanteks' Enthoo Primo features a unique PSU thermally isolated location, multifunctional cable/reservoir cover, exclusive brackets, and massive cooling potential. Phanteks' new case features a shifted design which allows for the unique PSU configuration. The PSU is thermally isolated, creating cooler temperatures within the case. With the PSU located in the back of the case, this allows for a cleaner look and better cable management.. Exclusive brackets that makes everything a breeze to install. Reservoir bracket that can be use as a cable cover with the modular cover on or as a reservoir bracket with the pre-drilled holes when cover is off. Enthoo Primo includes a pump bracket that supports many different pumps, side radiator bracket and bottom radiator bracket for easy installation.
Features:
Full Tower Chassis
Brushed Aluminum Front and Top Panels
Ultimate Water Cooling Solution
Removable Dust Filters
Dual PSU Capability
Innovative Reservoir Bracket/ Cable Cover
Modular HDD Cages
Drop-N-Lock Double Stack SSD Brackets
HiTech Legion Review
"It is attractive, very well constructed, aimed squarely at the enthusiast who demands the very best."
Full review
Guru3D Review
"Not only is the Phanteks Enthoo Primo good looking but it is oozing with nice features."
Full review
Customer reviews
Customer questions