Cougar 600M RGB Gaming Mouse Black
600M-BLACK
This product has been discontinued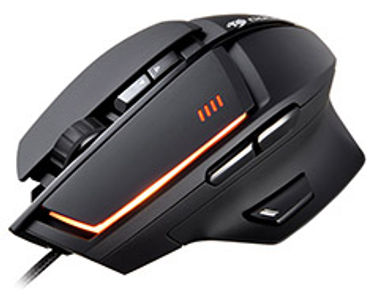 The Cougar 600M has been designed with the clear objective of offering gamers a mouse that can both provide state-of-the-art technology. Its premium components include OMRON switches, an ADNS-9800 Sensor and a premium quality soft touch surface guarantee a flawless performance during gameplay, while its 32-bit ARM processor and 512KB on-board storage provide virtually instantaneous responses and the possibility of keeping up to 3 full configuration profiles stored on board.
Hardware Heaven Review
"The build quality and design are very good as is the performance. All backed by decent software."
Full review
eTeknix Review
"The Cougar 600M looks unique, both in terms of colour choice and shape. It offers incredible performance and it's a great choice for those who want a great gaming mouse."
Full review
Pure Overclock Review
"If you are a gamer, and you are looking for a very affordable gaming mouse to help take you to that next level, the Cougar 600M, with its software package will surely help get you there."
Full review
Customer reviews
Customer questions