Audioengine B1 Bluetooth Music Receiver
AE-B1
This product has been discontinued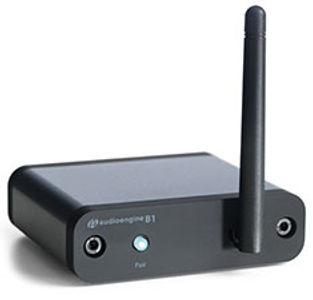 The Audioengine B1 Bluetooth Music Receiver is a high fidelity audio component that easily integrates into your music system and plays music directly from your library. The B1 streams high quality audio from your Bluetooth enabled smartphone, computer, or tablet to any music system or powered speakers.
PC Mag Review
"Audioengine takes (Bluetooth) a step further and adds a top-notch DAC, which results in a top-notch audio accessory worthy of our Editors' Choice designation."
Full review
Overclock.net Review
"It just works and sounds great. There are many cheaper Bluetooth receivers but if audio quality is an important factor then this is the product for you"
Full review
Gear Diary Review
"My small A2 speakers have never sounded better and, thanks to the streaming prowess of the B1, I'm now able to cut the cord."
Full review
Customer reviews
Customer questions