ASUS PG278Q ROG Swift 27in 144Hz G-Sync Eyecare Gaming Monitor
PG278Q
This product has been discontinued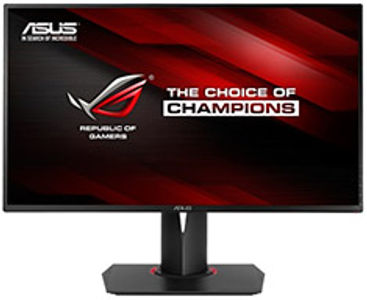 The ROG Swift PG278Q is the world's first WQHD monitor powered by NVIDIA G-SYNC technology. NVIDIA G-SYNC, a breakthrough in display technology, synchronises the display's refresh rates to the GPU. The ROG Swift PG278Q eliminates screen tearing, minimises stutter and input lag to deliver the smoothest gaming experience possible. With G-SYNC technology objects look sharper and more vibrant, while gameplay is more fluid and responsive.
Note: The ROG Swift is designed to be used with NVIDIA cards leveraging G-SYNC technology.
Experience Immersive Gaming and Outstanding Visuals
Say goodbye to motion blur and lag with 120+ Hz refresh rate and 1ms response times for a competitive advantage in all your games, thanks to smoother gameplay and on-screen responsiveness. The ROG Swift PG278Q also features GamePlus, an exclusive ASUS feature.
GamePlus is an OSD overlay that enables crosshair and timer functions to be displayed on the monitor. Gamers can select from four different crosshair types to suit the gaming environment, while the timer function allows players to track elapsed time in real-time strategy games. These tools allow gamers to practice and improve their gaming skills.
The ROG Swift PG278Q provides an array of options that include DisplayPort 1.2 for native WQHD output, dual USB 3.0 ports, VESA wall mount capability and a versatile stand with full tilt, swivel, pivot, and height adjustment for an ideal viewing position while playing the latest game titles.
The smart cable management feature rids your desktop of tangled wires, while the super narrow 6mm bezel ensures the ROG Swift PG278Q is an ideal choice for seamless multi-display gaming setups. Another nod to gamers and improving the user experience is a 5-way joystick that allows the user to easily navigate the OSD and make quick monitor adjustments.
Highlights:
Display: 27inch WQHD 2560 x 1440 (16:9)
Narrow 6mm bezel designed for multi-monitor setups
Refresh Rate: 144Hz
Response Time: 1ms (GTG)
Connectivity: 1 x DisplayPort 1.2, 2 x USB 3.0 ports
VESA-wall mountable (100 x 100mm)
KitGuru Review
"A jaw dropping monitor that will surely be one of this years biggest luxury high end sellers."
Full review
Overclock3D Review
"It's at times like this that we wish we could take OC3D on tour and show you all how this ROG PG278Q Swift really breathes new life into a monster gaming rig. ASUS were wise to apply the ROG logo to this particular model, which has everything you could require from a big single display. It's fantastic and worthy of our OC3D Performance Award."
Full review
Toms Hardware Review
"For its excellent performance and gamer-oriented features, we feel it merits serious consideration."
Full review
Customer reviews
Customer questions