Intel Pentium Anniversary Edition G3258
BX80646G3258
This product has been discontinued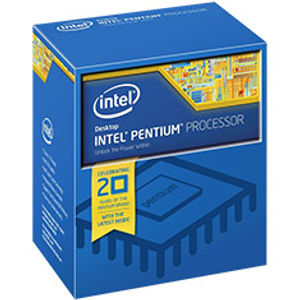 Intel Pentium G3258 3.2GHz Unlocked Dual Core CPU, LGA1150, 3MB cache, 53W Max TDP, BX80646G3258. Retail box including fan, heatsink and thermal paste.
PC World Review
"A fantastic budget gaming chip that is just begging to be overclocked."
Full review
Tom's Hardware
"As a value-oriented gaming processor, this thing is just awesome."
Full review
Bit-Tech Review
"Whether you want to go for a Z97 board but can't afford a K-series CPU right now, or you just want a cheap but powerful gaming system, the Pentium G3258 is an excellent choice."
Full review
Customer reviews
Customer questions