Sennheiser GAME ZERO Gaming Headset - Black
506079
This product has been discontinued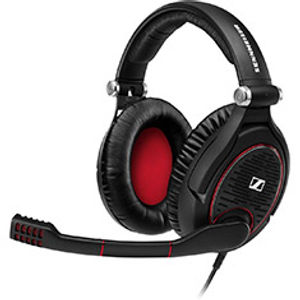 Featuring Sennheiser's Ergonomic Acoustic Refinement technology, the GAME ZERO delivers the ultimate in sonic accuracy and clarity. The updated closed design provided by the custom-made painted steel ear cup grids lets you hear even the faintest detail of your game. GAME ZERO has exchangeable cables allowing compatibility with multiple platforms such as PC, Mac, consoles, mobiles and tablets that feature a 3.5mm jack input. Get ready to experience the full immersive sounds whether you're gun-running on a tropical island, communicating with your team when to initiate or enjoying The Sound Games Are Made Of.
Please note: All Sennheiser's PC gaming headsets can also be used on Xbox One and PS4. Xbox One users will also need the Microsoft Xbox One Stereo Headset Adapter.
NZ Gamer
"They sound incredible, and are extremely comfortable - even over extended periods of time."
Full review
Bosslogic Inc
"The Sennheiser G4ME ZERO headphones, are one of the best sounding gaming headsets to date for me, it is comfortable, looks sleek and sexy and produces great quality sound."
Full review
Customer reviews
Customer questions