Swan T200C Reference Studio Monitors
SWAN-T200C
This product has been discontinued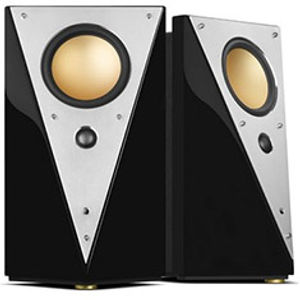 $200 off - normally $899, strictly while stocks last!
The Swan T200C are stylish high performance active desktop speakers, with high quality audio sound output and Bluetooth transmission. They uses active electronic filter technology, and are equipped with a 5 1/4inch aluminium-magnesium alloy cone long excursion woofer and a 20mm metal dome tweeter. The T200C uses a master/slave speaker configuration. In the master speaker, there is a two channel pre-amplifier and a mono power amplifier. In the slave speaker, there is only one mono power amplifier. The audio or Bluetooth signal inputs into the master speaker and after signal processing, one channel line outputs to the slave speaker. All connections are XLR balanced interface to avoid signal interference.
The T200C's exterior features a stylish inverted triangle silver aluminium front panel combined with black piano lacquer cabinet. The front panel tilted design ensures that when at near-field listening the high and low frequency reaches the user's ear at the same time. The asymmetric structure helps reduce the cabinet's standing waves, which reduces sound colouration. The master speaker has a Bluetooth module, allowing connecting smart phones or other digital devices very easily. The T200C master speaker back panel has a volume control along with treble, mid-range and bass adjustment functions, allowing the user to change the sound characteristics according to preference and environment.
The T200C features a stylish inverted triangle design, luxurious black piano lacquer finish with a silver aluminium panel, cutting-edge speaker driver design and professional active filter/power amplifier technology. An integrated vented tube / heatsink effectively reduces the temperature of the back panel. It can obtain a smooth frequency response and very low distortion in a variety of environments, accurate sound image localisation and extended low frequency performance. T200C can be used as high-end desktop speakers, or as a convenient Bluetooth music system.
Customer reviews
Customer questions