Be Quiet! Silent Wings 2 140mm PWM Fan
BL031
This product has been discontinued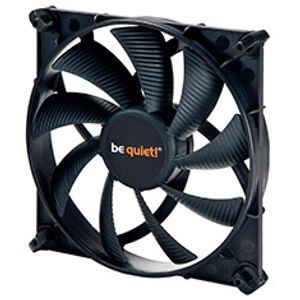 The Silent Wings 2 140mm PWM fan provides maximum cooling airflow and operating noise levels down to a virtually silent 16.4 dBA while pushing up to 60.4CFM at 1000RPM.
Proclockers Review (non PWM version)
"The be quiet! Silent Wings 2 140mm is a great fan. It's got sleek looks and a unique mounting system that allows for total customization with regards to mounting the fan. The fan also performs very well – moving a ton of air with near 100% silence."
Full review
Overclockers Club (non PWM version)
"The Silent Wings 2 have the highest airflow to noise ratio of any fan I have personally seen or used. They are more than enough to keep a CPU cool under decent overclocked settings while adding nothing to the accumulated noise."
Full review
Customer reviews
Customer questions