Be quiet! Dark Rock Pro 3 Cooler
BK019
This product has been discontinued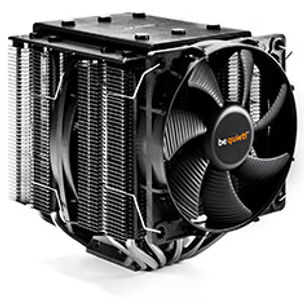 On sale! (normally $109)
Be Quiet! Dark Rock Pro 3 with AM4 bracket included. Dark Rock CPU coolers have long been category leaders, and now the significantly upgraded Dark Rock Pro 3 is even more powerful. This virtually inaudible double-tower CPU cooler puts famous be quiet! SilentWings technology in your PC where it really counts. They are excellent for overclocked systems and demanding multi-graphics platforms.
TechPowerUp Review
"If you are in the market for top-tier performance and want a silent cooler, the Dark Rock Pro 3 from be quiet! is the air cooler to get."
Full review
KitGuru Review
"be quiet! knows that gamers and enthusiasts of today want a quiet, well-cooled, good-looking system. With the company's Dark Rock Pro 3, users can satisfy all of those requirements in one well-priced CPU cooler."
Full review
eTeknix Review
"The Dark Rock Pro 3 is without a doubt the best performing air cooler I've ever tested."
Full review
HiTech Legion Review
"The be quiet! Dark Rock Pro 3 strikes a balance of silence and performance that few, if any, can match. For the enthusiast running CPU intensive tasks, the Dark Rock Pro 3 will be an absolute blessing, allowing for near silence during these sessions even at full fan speeds."
Full review
Customer reviews
Customer questions