Corsair Obsidian 450D Mid Tower Case with Window
CC-9011049-WW
This product has been discontinued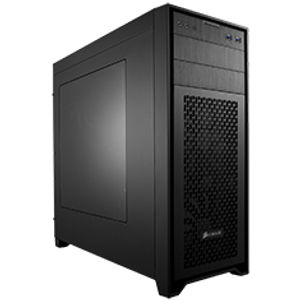 The Corsair Obsidian 450D has an elegant brushed aluminium front panel and a solid steel body, with an interior that's optimised for efficient, high-volume airflow and can also house some serious water cooling gear. The included dual front AF140L intake fans provide direct GPU cooling, and there's a total of seven fan mounts for your extremely high volume airflow projects. All air intakes are protected with removable dust filters.
Tech Power Up Review
"if you do not need any more expansion possibilities than the 450D has and really crave a chassis with such compact dimensions, we can by all means highly recommend this beautiful, high quality case."
Full review
Customer reviews
Customer questions