Phanteks Enthoo Primo Ultimate Chassis White
PH-ES813P_WT
This product has been discontinued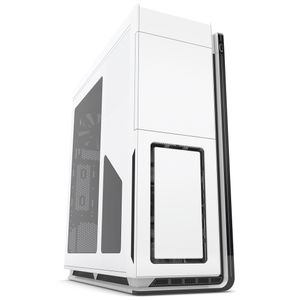 The Phanteks Enthoo Primo represents a stunning take on the design and function of a case. Offering exceptional out of the box water-cooling support for a case of this form factor while still providing excellent air cooling with 5 silent 140mm fans included. The case has been designed with a thermally isolated PSU compartment, which keeps the heat from the PSU away from the rest of the components, while enabling an ultra clean cable management system. Several pre-drilled mounting points for reservoirs and pumps have been included throughout the case, to add to the immense radiator options available. The spacious rear of the case provides plentiful cable management mounting points and an inbuilt fan controller. All this functionality is topped off with a sleek minimalist design with beautifully fitting brushed aluminium and extremely tight fitment.
Features:
Full Tower Chassis
Brushed Aluminum Front and Top Panels
Ultimate Water Cooling Solution
Removable Dust Filters
Dual PSU Capability
Innovative Reservoir Bracket/ Cable Cover
Modular HDD Cages
Drop-N-Lock Double Stack SSD Brackets
HiTech Legion Review
"It is attractive, very well constructed, aimed squarely at the enthusiast who demands the very best."
Full review
TweakTown Review
"So close to perfect it will make your head spin!"
Full review
Guru3D Review
"Not only is the Phanteks Enthoo Primo good looking but it is oozing with nice features."
Full review
Customer reviews
Customer questions