Corsair Hydro Series H105 240mm Liquid CPU Cooler
CW-9060016-WW
This product has been discontinued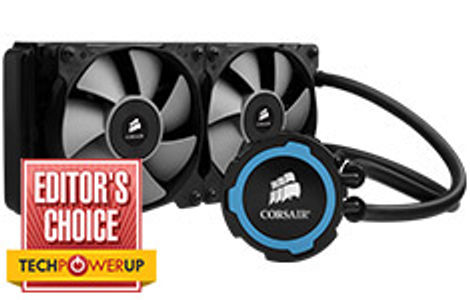 The Corsair Hydro Series H105 provides extreme CPU cooling performance. The 240mm top-mounted high-capacity radiator is paired with high-performance SP120L fans for powerful heat dissipation you need for highly overclocked CPUs. And, PWM fan speed fan control lets you select the precise level of cooling power you need.
Kit Guru Review
"There is no doubt that the Corsair Hydro H105 is an impressive cooler. It is ideal for the enthusiast audience who demand excellent cooling performance..."
Full review
Tech Power Up Review
"The Corsair Hydro Series H105 is without a doubt an amazing AIO liquid cooler. It offers extreme cooling performance that outdoes the H110 and every air cooler I have tested to date. The H105 delivers exceptional performance at even lower fan speeds by beating every cooler I have tested with the fan set to 50 Percent."
Full review
Customer reviews
Customer questions