D-Link DUB-1312 USB 3.0 to Gigabit Ethernet Adapter
DUB-1312
This product has been discontinued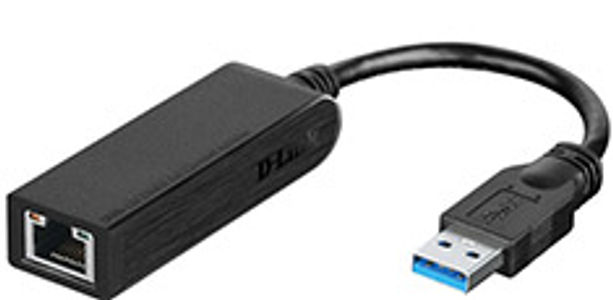 On sale! (normally $39)
The DUB-1312 USB 3.0 to Gigabit Ethernet Adapter allows you to instantly add gigabit connectivity to your desktop, notebook, or netbook computer. Just plug the DUB-1312 in to an available USB 3.0 port and you're ready to connect to your switch, hub, or router with the speed and reliability of a wired gigabit connection.
Features:
Achieve transfer speeds of up to 1 Gbps
Status LEDs for connection status and data transfer speed
Simply plug in, install the included software and you're ready to go
No additional hardware installation required, leaving expansion slots free for other uses
Small and compact design makes it easy to take with you wherever you go
Reduces power consumption during times of light traffic, when idle or when the Ethernet cable is unplugged
Supports the built-in power-saving features of the USB 3.0 standard. Especially useful for battery-powered notebook and ultrabook computers.
Customer reviews
Customer questions