Audioengine D3 Premium 24-Bit DAC / Headphone Amp
AE-D3DAC
This product has been discontinued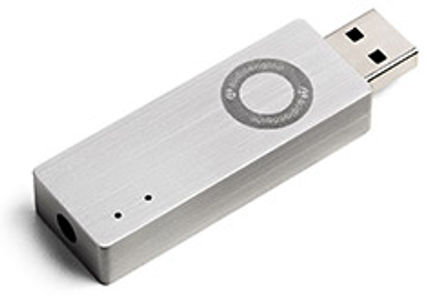 On sale! (normally $149)
The Audioengine D3 Premium 24-bit DAC (digital-to-analog converter) allows you to bypass your computer's headphone output and send music directly through a USB port for noticeably improved fidelity and a higher output. The D3 is a powerful yet portable converter with performance and features usually found in more expensive DACs and is the perfect interface between your computer and headphones or any music system.
Features:
Portable USB audio converter for Mac or PC
Stream bit-perfect native 24/96 HD audio
High-performance headphone amp included
Plug-and-play, no drivers or software to install
Connect headphones or any music system
Easily drives low impedance headphones
Computer OS volume control
Asynchronous data transfer with dual master clocks
HD indicator for sample rates above 48K
Metal injection molded (MIM) aluminium case
Compatible with any computer, Mac or PC, headphones, Powered speakers or any music system with audio inputs (RCA or minijack)
MyMac
"The Audioengine D3 produces the best sound of any of the mini-DACs I've heard to date. It's easy to carry everywhere in the tiny pouch that comes with it, and the price is no higher than many DACs that don't sound as good. Highly recommended!"
Full review
Computer Audiophile
"Audioengine has hit their mark with the D3. A good price, great delivery and well kempt sound quality round out the tiny package for the computer desktop junkie and budget audiophile alike."
Full review
The Gadgeteer
"Audioengine shows that big things can come in small packages"
Full review
Head-Fi "HeadphoneAddict" Community Member
"I need to do more comparisons, but the D3 is actually pretty darn close to my $399 DACport so far, as a preamp or headphone amp!"
Full review
Customer reviews
Customer questions