NZXT Sentry LX Dual 5.25in LCD Fan Controller
8E-SE001-00B
This product has been discontinued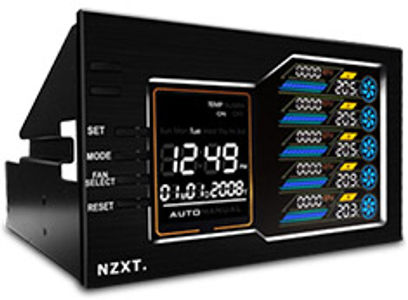 The NZXT Sentry LX Dual 5.25in LCD fan controller provides complete control over the 5 fans supported. It features 5 temperature probes so you can keep tabs on all areas of your PC as well as a temperature alarm for instant notification if the temps rise. Built with an aluminium front panel and an intuitive interface and LCD display, the Sentry LX is a great addition to any build!
Club Overclocker Review
"The Sentry LX is clearly a step above the smaller single slot or floppy sized controllers."
Full review
Test Freaks Review
"If you're in the market for a fan controller then the NZXT Sentry LX is what you want in your system, it's easy to use and install, it has nice long cables, it's well made and it look great."
Full review
Customer reviews
Customer questions