D-Link DAP-2360 AirPremier N PoE Access Point
DAP-2360
This product has been discontinued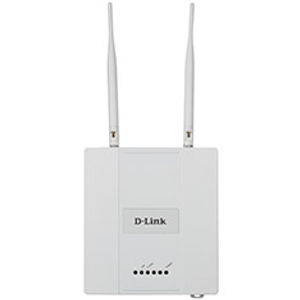 On sale! (normally $229)
The DAP-2360 is an 802.11n Plenum Rated PoE Access Point ideal for any network administrator to create or expand the capacity of their wireless network. At transfer rates of up to 300Mbps in 2.4GHz users are able to connect with legacy 802.11b/g adaptors as well as the latest 802.11n adaptors to enjoy faster downloads and instant communication.
Versatile Access Point:
The DAP-2360 allows network administrators to deploy a highly manageable and extremely robust 802.11n wireless network. The included antennas are detachable and provide optimal wireless coverage in the 2.4GHz (802.11g and 802.11n) band using a high power single radio design to reduce dead spots and increase capacity. Enclosed in a white plenum-rated metal chassis, the DAP-2360 colour allows the access point to easily blend into ceilings or walls and adheres to strict fire codes for placement in air passageways. For advanced installations, this high-speed Access Point has integrated 802.3af Power over Ethernet (PoE) support, allowing installation of this device in areas where power outlets are not readily available.
Enhanced Performance:
The DAP-2360 delivers reliable wireless performance with maximum wireless signal rates of up to 300Mbps in the 2.4GHz wireless band. This, coupled with support for Wi-Fi Multimedia (WMM) Quality of Service features, makes it an ideal access point for audio, video, and voice applications. Additionally, the DAP-2360 supports load balancing features to ensure maximum performance by limiting the maximum number of users per Access Point.
Features:
802.11n 2.4GHz single band
Inconspicuous White Plenum rated housing
Supports 802.3af PoE / Gigabit Ethernet port
Supports AP/WDS/WDS with AP/Client mode
Supports Multiple SSID/VLAN
Up to 26dbm High Power radio design
Supports AP Manager II/AP Array/D-View/SNMP/Web/Telnet/SSH/SSL for management
Limited Lifetime Warranty
Customer reviews
Customer questions