Corsair Obsidian 350D Case with Window
CC-9011029-WW
This product has been discontinued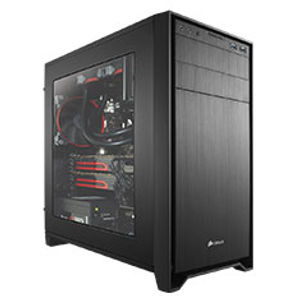 The Obsidian Series 350D Micro ATX PC case is designed for building compact high-performance systems with Micro ATX and Mini ITX motherboards. The compact size is ideal if your space is limited, but there's plenty of room inside for liquid CPU cooling, dual hard drives, dual SSDs, and SLI/CrossFire ready.
Features:
Brushed aluminium front panel
Elegant, flush mounted windowed side panel
SLI / CrossFire ready
Five expansion slots
Two 2.5in, two 3.5in, and two 5.25in tool free drive bays
Modular 2.5in SSD cage
Front 140mm and rear 120mm cooling fans. Room for up to five fans total
Direct Airflow Path from front cooling fan to GPUs
Maximum ATX PSU length 180mm
Maximum GPU length 380mm
Maximum CPU Cooler Height 160mm
Room for two 240mm radiators (top, front)
Dual USB 3.0 ports
* Corsair components for illustration purposes only. Product is case only.
Customer reviews
Customer questions