Swan M200MKIII Reference Powered Monitors
zzzzzzzSWAN-M200MKIII
This product has been discontinued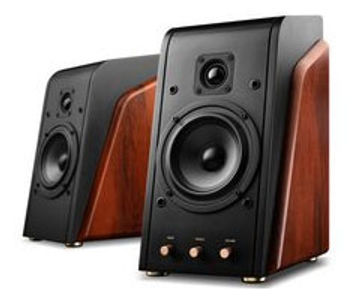 What's new about the M200MKIII one might ask? What isn't. Everything has been changed with the exception that the design still includes the same German fiber dome tweeter as previous revisions. From the new amplifier and driver designs to the solid cherry wood side panels and inscribed commemorative plaque on the back of the speaker, the special edition design is truly like a M200 on steroids.
A brand new long-throw 5 woofer was designed to take full advantage of the increased power output allowing for deeper bass and a broader dynamic. The amplifier was completely redesigned into a 4 channel amplifier bi-amping the tweeter / woofer in each cabinet separately while supplying twice as much power as the MKII with an impressive 120W RMS nominal power. The old crossover design was also completely removed in favor of an active filter design. To allow for easy connection of the 4 channel active filter design, a gold plated 4 wire cable has been included to connect the left and right channels together.
The end result is a M200 unlike any previous revisions. A true high-end active bookshelf / desktop speaker system unlike anything on the market today.
6 Moons Review
"This is a musically satisfying design for the audiophile seeking a better lifestyle component. Shamelessly attractive and overbuilt given their modest price, it's an easy and enthusiastic recommendation."
Full review
Head-fi Review
"You'll be hard-pressed to find a speaker near this price point that provides the perfect balance of sound suitable for classical, jazz, and rock. For audiophiles looking to upgrade their desktop sound, look no further."
Full review
Customer reviews
Customer questions