D-Link DCS-932L MYDLINK Wireless Network Camera
DCS-932L
This product has been discontinued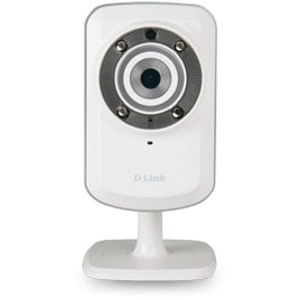 On sale! (normally $79)
The D-Link DCS-932L MYDLINK Wireless Network Camera is a unique and versatile surveillance solution for your home or small office. Unlike a traditional webcam, the DCS-932/932L is a complete system with a built-in CPU and web server that transmits high quality video images for security and surveillance. Simple installation and an intuitive web-based interface offer easy integration with your Ethernet or 802.11n wireless network. The DCS-932/932L also comes with remote monitoring and motion detection features for a complete and cost-effective home security solution.
Features:
Remotely monitor your home or office over the Internet
Includes D-ViewCam for multi-camera monitoring and management
Motion detection to trigger recording and send e-mail alerts
DDNS support for web access with an easy to remember domain name
Administrator/User password protection
UPnP support for network setup and configuration
0 lux CMOS sensor for low light environments
MJPEG streaming for high-quality video
WPS support for easy network setup
802.11n wireless connectivity
Quickly access registered cameras via the Mydlink website
Gadet Review
"he D-Link DCS-932L Wireless N Day/Night Home Network Camera provides a dependable method for viewing a location remotely. Add in the "night-vision" ability and the software, and you've a video security camera that is capable all out of proportion to its price."
Full review
Customer reviews
Customer questions