Audioengine P4 Bamboo
AE-AP4BB
This product has been discontinued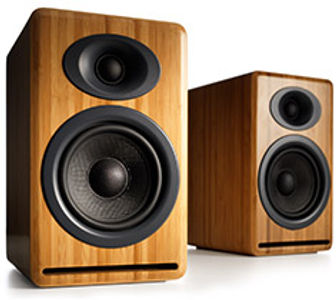 On sale! (normally $469)
The Audioengine P4 (AP4) is a high-performance bookshelf speaker pair with the same great looks and sound as the powered A5 speakers, but without the built-in amplifier. Beautiful, small, and affordable, AP4 is the perfect choice for your living room, bedroom or office and an ideal surround speaker for use with other Audioengine speakers in your home theater or stereo system.
Audio Video Revolution:
"There's a lot to like about the AP4s. These mighty mites excel at reproducing voices and instruments in space. Bright highs and uncluttered midrange are two of the speaker's greatest strengths."
Full review
What Hi-Fi?:
"The AP4 is designed as a high-performance bookshelf speaker with the same looks and sound as its powered brethren."
Full review
Customer reviews
Customer questions