Noctua NH-L12 Low Profile CPU Cooler
NH-L12
This product has been discontinued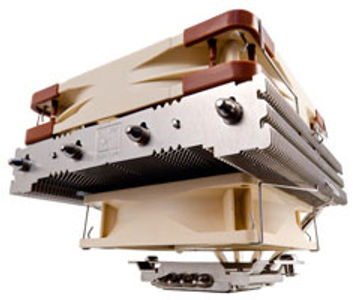 The Noctua NH-L12 is a low-profile, quiet CPU cooler designed for use in small form factor cases and HTPC environments. With its flexible NF-F12 120mm and NF-B9 92mm dual PWM fan setup, the NH-L12 can be configured either for full performance in dual fan mode or extra-low profile of 66mm with the top fan removed. Bundled with the award-winning NT-H1 thermal compound and Noctua's SecuFirm2 multi-socket mounting system, the NH-L12 packs everything a premium quality quiet cooler needs into a highly compact package.
Please refer to
Noctua's TDP guidelines
to find out whether the NH-L12 is recommended for your CPU.
Hitech Legion:
"Put it all together, and we have what I feel is the finest low profile cooler to hit the market to date in the Noctua NH-L12. It is a stellar performer, beautifully built and engineered, and simple to install. The NH-L12 stays dead quiet at all fan speeds, and even offers an LNA for those situations where even the minutest noise would be too much. Plus, it fits everywhere. In the world of HTPC/Low Profile cooling, the Noctua NH-L12 is king and, in my mind, it's not even close."
Full review
Hardware Heaven:
"Another great cooler from Noctua which offers high performance and low noise for those with a compact chassis."
Full review
Customer reviews
Customer questions