Audioengine D1 Premium 24-Bit DAC / Headphone Amp
AE-D1
This product has been discontinued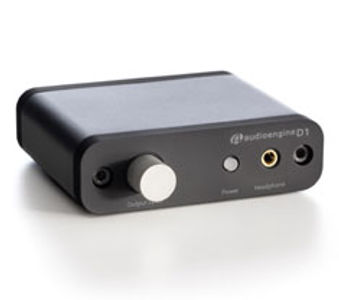 The Audioengine D1 is the perfect digital interface between your computer and music system and will improve the sound of your music. And since it's powered by USB, the D1 is also a high-quality portable computer headphone amplifier.
CNet.com Review
"..the new D1 is the perfect music "interface" between your computer and speakers or headphones."
Full review
Computeraudiophile.com Review
"The next time someone wants to seriously improve their computer's sound for under $600, I'm going to recommend a pair of A5+ speakers with the D1. Very impressed by this DAC."
Full review
AV Guide.com Review
"I fully expected the Audioengine to be good, but I never thought it would be as much of a sonic overachiever as it turned out to be. With a useful feature set that includes a very serviceable headphone amp, a variable output line level so it can be used without a preamp, 96/24 capabilities, and a price-tag under $170, the Audioengine D1 is a fabulous first step towards great sound."
Full review
Customer reviews
Customer questions