Turtle Beach Stealth 600 Wireless Gaming Headset Black
FS-TBS-3340-01
This product has been discontinued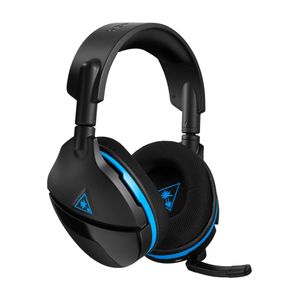 The TURTLE BEACH® STEALTH 600 is the latest wireless surround sound gaming headset for PC/PlayStation®4. Debuting an all-new modern style, the STEALTH 600 delivers virtual surround sound plus chat audio through powerful 50mm over-ear speakers, and features Turtle Beach's renowned high-sensitivity mic that can be flipped-up to mute. For comfort, the STEALTH 600 dawns the latest iteration of Turtle Beach's unique ProSpecs™ glasses friendly design, and has breathable mesh fabric-wrapped headband and ear-cushions. The STEALTH 600 also includes Turtle Beach's exclusive Superhuman Hearing™ sound setting, Variable Mic Monitoring, audio presets including Bass Boost, and a 15-hour rechargeable battery.
The Turtle Beach Audio Hub keeps your gaming headset and other Turtle Beach gear up to date, and allows you to adjust and customize settings on specific products.
ADDITIONAL FEATURES
15-Hour Battery Life
An onboard rechargeable battery delivers up to 15-hours of gaming per charge, so you'll always be ready to play.
Glasses Friendly
The latest version of Turtle Beach's patented ProSpecs™ Glasses Relief System features dual-foam ear-cushions, with softer foam in the section of the ear-cushions that rests against your glasses, alleviating pressure and allowing gamers with glasses to play in comfort.
Flip-Up Mic
Turtle Beach's renowned high-sensitivity mic takes on an all new form, picking-up your voice loud and clear to ensure your commands are always heard loud and clear. Plus, it flips-up out of the way to Mute when not in use and blends into the headset's design.
Variable Mic Monitoring
Say it…don't shout it, thanks to the ability to hear and adjust the volume of your own voice inside the headset to avoid shouting at teammates and other players.
Powerful 50mm Speakers
Hear every crisp high and thundering low with these large, powerful 50mm speakers.
Audio Presets Including Bass Boost
Enhance your gameplay experience with four audio EQ presets including Bass Boost, Signature Sound, Bass and Treble Boost, and Vocal Boost.
Specifications
Audio Connection
Direct Wireless Connection
Speaker Frequency Response
Transmitter Frequency Response
Headset Power
Battery
Rechargeable 900mAh Lithium Polymer
Speaker Size
50mm with Neodymium Magnets
Battery Life
Microphone
Headband/Earpad Material
Mesh Fabric with Foam Cushioning
Ear Cushion
Mesh Fabric with Foam Cushioning


What's In The Box

Headset
Stealth 600 Gaming Headset / USB Transmitter
Cable
Guide
Quick Start Guide / Turtle Beach Sticker
Customer reviews
Customer questions