Turtle Beach Atlas Edge PC Audio Enhancer
FS-TBS-0390-01
This product has been discontinued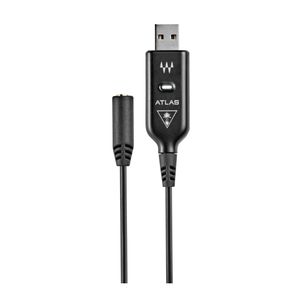 On sale! (normally $49)
The Turtle Beach® Atlas Edge PC Audio Enhancer gives your existing wired headset a USB connection, 66-inches of additional cable length and an instant, customizable advantage on PC including Waves Nx 3D Audio.
ADDITIONAL FEATURES
Universal Compatibility 3.5mm female jack connects with any passive wired gaming headset. Full compatibility through any PC's USB port. Easily setup and unlock the features of Turtle Beach's new software suite Control Studio.
Waves Nx 3D Audio
Waves Nx delivers an immersive 3D audio experience by providing pinpoint location accuracy and lifelike sound enabling gamers to be inside the game. By recreating real-world sounds in a virtual space, Waves Nx 3D Audio surrounds the gamer in a natural environment creating a more accurate spatial scene so that they can easily pick out important sounds to help them win.
Control Studio
Unlock the features of Turtle Beach's new software suite to customize your audio experience and instantly upgrade your existing headset. With Waves Nx 3D audio, variable mic monitoring, dynamic inbound chat and mic boost and customizable macros for audio features make any passive wired headset built to win on PC.
Convenient Cable Length
Ideal for custom battle stations, the 66-inch cable works with any gaming setup .
Independent Game & Chat Volume Control Independently adjust and easily find the perfect balance between game audio and chat audio.
Superhuman Hearing® Optimized for PC
With Turtle Beach's exclusive Superhuman Hearing® sound setting combined with Waves MaxxMultiband technology, you'll have the competitive advantage by being able to hear all the subtle yet game-changing sounds, like enemy footsteps and reloads.
EQ Audio Presets, Including Bass Boost
Enhance your gameplay experience with EQ audio presets including Bass Boost, Natural Sound, Bass and Treble Boost and Vocal Boost. Customize your audio experience by creating your own presets utilizing the 10-band equalizer.
Dynamic Chat Boost™
Activate chat boost optimized with Waves MaxxVolume to automatically increase incoming chat volume over game audio during loud gameplay spikes so you hear your teammates clearly and never miss a command or create your own custom chat setting using the 10-band chat specific equalizer.
Macro Compatibility
Have your favorite audio controls at your fingertips with configurable macros for audio features.
Connections
3.5mm Female Jack, USB Transmitter
Customer reviews
Customer questions