Corsair Premium Sleeved PSU Cables Starter Kit Blue
CP-8920218
This product has been discontinued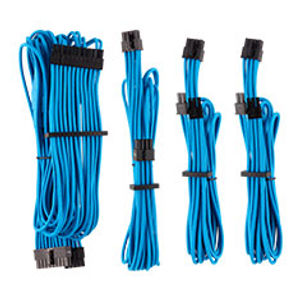 On sale! (normally $79)
The CORSAIR Premium Individually Sleeved Type 4 Gen 4 Pro Kit includes everything you need to fully upgrade your PSU cables to flexible paracord sleeve cable sets to match your system's style. Flexible paracord mesh and pre-installed modular cable combs make achieving a professional-level build easy, while in-line capacitors on the ATX 24-pin, EPS12V/ATX12V, and PCIe cables maintain all your PSU's award-winning performance.
Features:
Flexible triple-layer mesh paracord individually sleeved cables provide easy cable routing and stylish looks.
Includes an essential selection of CORSAIR Premium Individually Sleeved Cables to equip the most demanding systems.
Heatshrink-less connectors for a display-ready PC.
Included modular interlocking cable combs are pre-installed for an out-of-the-box professionally built look.
In-line capacitors on the ATX 24-pin, EPS12V and PCIe cables ensure clean voltage delivery and stable power.
Please note:
make sure you check the
Corsair power supply cable compatibility page
to confirm if this will be suitable for your model.
Customer reviews
Customer questions