EVGA SuperNOVA P2 Modular Platinum 1000W Power Supply
21E-SNP2-1000W
This product has been discontinued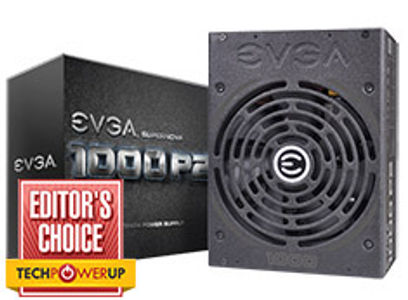 EVGA SuperNOVA P2 Modular Platinum 1000W Power Supply
21E-SNP2-1000W
On sale! (normally $369)
The SuperNOVA 1000 P2 is 80 PLUS Platinum rated with an efficiency of 92% under typical loads. The new ECO Thermal Control Fan System offers Fan RPM modes to provide zero fan noise during low load operations. This provides improved efficiency for longer operation, less power consumption, reduced energy costs and minimal heat dissipation. Backed by a 10 year warranty, gain peace of mind from the heart of your system and power up with the EVGA SuperNOVA 1000 P2. 220-P2-1000-XR.
TechPowerUp
"To wrap up, the EVGA P2-1000 should be your first choice if you want to buy a high-end PSU at a really good price and cherish ten worry-free years."
Full review
JonnyGURU
"This unit is, quite simply, amazing. It's powerful, stable, and has the build quality to last for decades."
Full review