Monsoon HL 16/13mm Compression Fitting Chrome 6 Pack
62820
This product has been discontinued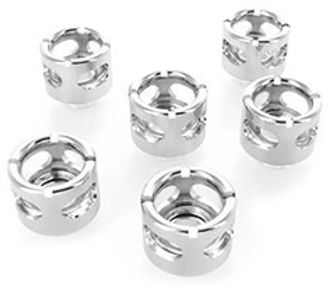 Designed for Pro Modders, Monsoon's new Hardline Premium Fittings for acrylic tubing features Hard/Lock for a connection you can count on. The Free Center Wrench design used to tighten the barb and the compression ring is perfect for tight spaces because it puts the wrench above the fitting plane giving you more room to manoeuvre than a conventional wrench. The small wrench notches on the compression ring are also a lot less noticeable than big ugly wrench flats or knurling on the side of a fitting which is normally the most visible portion when installed. Best of all eliminating the knurling gives your fingers a much needed break.
Precision machined entirely from marine grade brass with antimicrobial silver barbs/bases so you can run pure distilled or deionised water without the need to add antimicrobial additives that can lower cooling performance. The barb/base also features an internal hex for easy and secure installation and removal.
Please note: It is recommended to use Monsoon tubing with Monsoon fittings to ensure a proper fit.
Features:
Precision machined entirely from brass
Antimicrobial silver barbs/bases
Modular, fully interchangeable between fitting styles and across tube types
The Free Centre Wrench works on the barb/base and the compression ring for hassle free installation without tearing up your fingers
Although we highly recommend using the Free Centre Wrench, the barb can also be tightened with any coin 1.6mm thick and approximately 25mm in diameter-about the size of a US Quarter, and the machined windows on the compression ring can also be used to provide grip for finger tightening
Smaller visually and physically to make mounting in tight locations like CPU blocks easier. Outside diameter is just 22.14mm and total height is just 16mm
Knurled base on the barb to increase its grab when installed
Includes a black O ring and a UV O ring
Includes:
Six antimicrobial barb/bases
Six Compression Rings
Six black 2.4mm thick high quality silicone G1/4 BSPP O rings
Six colour matched UV 2.4mm thick high quality G1/4 BSPP O ring
Six Molded Acrylic Lock Collars
Twelve molded high quality black lock collar seals
Wrench
Customer reviews
Customer questions